Northern Tenerife is one of the areas of the island with a great variety of natural landscapes, from prehistoric and enigmatic forests to black sand beaches where you can feel the magical atmosphere of the volcano. If you need a car to comfortably visit this area of Tenerife, you can book one at our car rental office located at Tenerife North Airport (TFN).
The island's capital is located in the North of Tenerife, like the airport of Tenerife Norte Los Rodeos, which means that, you can quickly get from the airport to the city in your rental car. At TopCar, the second driver and child seats are free of charge.
Tenerife is the largest island of the Canary archipelago as well as the highest with Mount Teide at an altitude of 3,718 meters. For this reason, hiring a car at the North or South airport is the best option if you want to discover this magnificent island and travel stress-free with unlimited mileage.
How to reach the Check Point
Vehicle Pickup: Parking meeting point at the S-2 level.
Please bear in mind that TopCar does not have an office in the main arrival's hall. You can find our partners in the same airport at the CHECKPOINT located in the S2 (Second Basement) of the parking place. We would be happy to assist your calls directed to: (+34) 647 862 005.
If you still haven't filled in the "flight number" field in the booking form of our website, we kindly ask that you send it to us via E-mail to tenerifenorte@topcar.es or SMS/WhatsApp to (+34) 647 862 005, together with your booking reference number.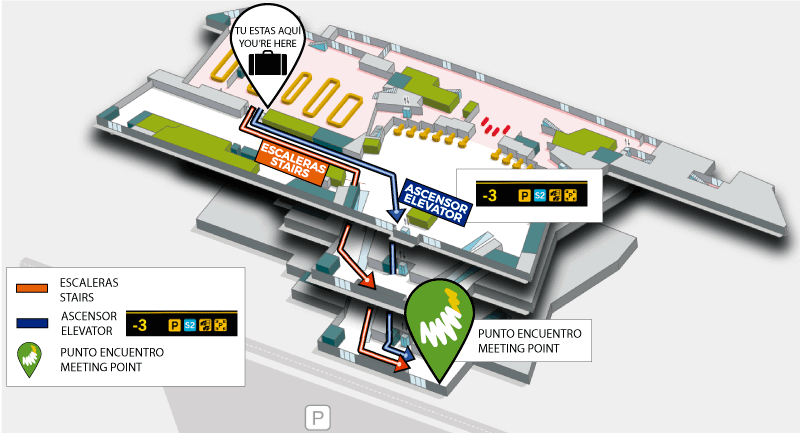 Office information at Tenerife North Airport - Los Rodeos
Every day from 7:30 AM to 10:30 PM
Other pick-up offices in Tenerife

Click to see the map
Areas for car hire in Tenerife