Excursion to Isla de Lobos
---
There you could visit the beach la Concha, also called playa de la Caleta. You may prefer to do a route and climb Montaña de la Caldera, which is an ancient volcano just over 100 m in height. But one of the most characteristic areas of the Isla de Lobos is El Puertito, in this area there are beautiful and paradisiacal lagoons and a small beach with calm turquoise waters. There is only one restaurant on the island, if you want to eat at this restaurant please reserve a table since arriving on the island.
How to get to Lobos Island?
From Corralejo, getting to Lobos Island has become a very common excursion for tourists, as the Cabildo has set up a ferry that sails regularly to the small and paradisiacal islet. In the same locality, you will be able to buy the tickets and consult the timetables both outward and return.
What can we see in Isla de Lobos?
The two most visited options, apart from enjoying activities such as snorkeling or fishing, are:
La Concha Beach: A beach with white sand and crystal clear waters, which seems to be taken from the postcards that we can see from the best coastal paradises. Its name is inherited from its curious shell shape.
El Puertito de Lobos: Here you will arrive from the ferry and it is usual to see many people enjoying the warmth and clarity of the water, which makes it an ideal cove for underwater activities.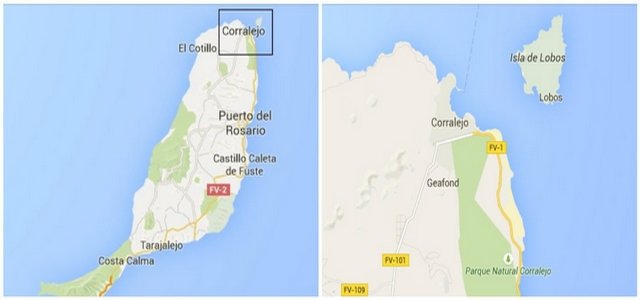 To get to Corralejo you can rent one of our vehicles and then take the boat to Isla de Lobos.
Source of text and image: www.visitarcanarias.com, www.visitafuerteventura.com, www.enjoyfuerteventura.net