10 Best Excursions in Lanzarote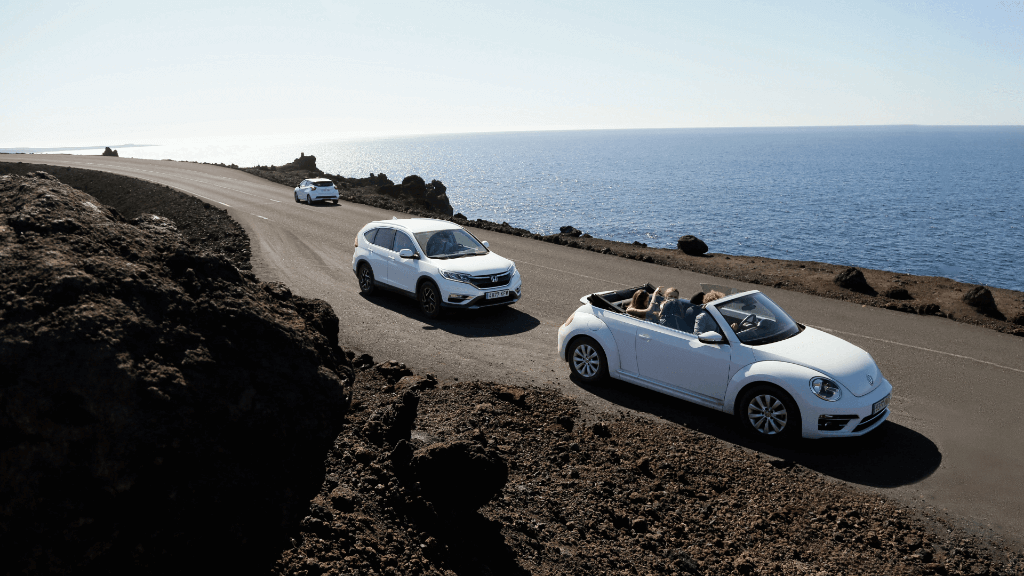 ---
Going on excursions in Lanzarote is one of the best options to discover an island where fire, sand, nature and sea join to give us unusual and unique paradise in the world.
Lanzarote is an island of lava, where black, ochre and reddish colours dominate most of the landscape and gives rise to beautiful blonde sand beaches and crystal clear waters that make the easternmost of the Canary Islands a paradise ready to discover.
Small in size with straight roads, Lanzarote is made to go all over it with a perfectly equipped vehicle to explore this beautiful island, which enjoys an excellent climate with more than 300 days of sunshine a year and average temperatures that rarely fall below 24 degrees.
These are perfect qualities to enjoy Lanzarote any day of the year with excursions that will allow you to get to know every corner of the most characteristic corners of the island.
This is an island fully equipped to enjoy an excellent holiday thanks to its hotels and tourist services that preserve the rural and quiet character of a place considered for many Canarians a haven of peace that will give you the relax and calm you needed so much to forget about the daily routine.
Of course, the best excursions in Lanzarote are a great way to discover all the places that await you to give you an unforgettable souvenir of one of the jewels of the Canary Islands.
You don't need many things in to enjoy the trips in Lanzarote to get to know the most iconic places on the island, as there are many companies that offer this kind of service.
If you are one of those people who like to get by yourself to all the places that captivate your interest, pay attention to this small itinerary to know Lanzarote.
Trips in Lanzarote to discover the island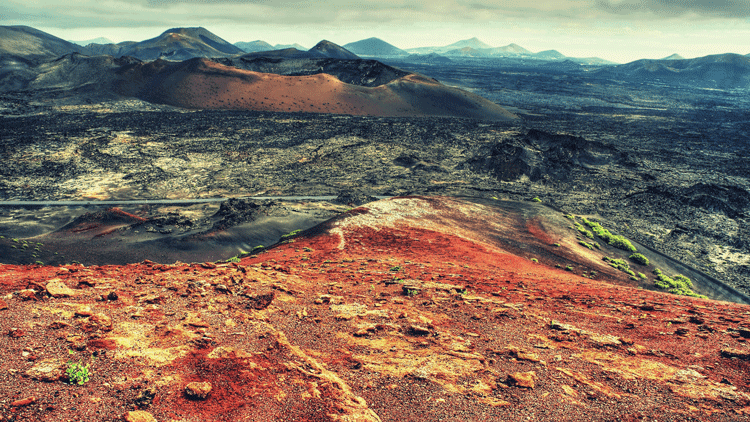 The first thing we recommend is having a good vehicle capable of giving you all the kilometres you plan to cover on the island.
Having a good car to move around Lanzarote is a guarantee of absolute enjoyment thanks to the ease access of the most iconic places on the island.
Another tip is planning thoughtfully your route, the places you want to know and shape your trip with the days you are going to spend on the island, as you don't want to lack time.
Come ready to enjoy and relax, as Lanzarote is a perfect island to get these sensations every day you spend on it.
If you have already taken note, that means you are ready to discover our recommendations to live this island of fire and sea to the fullest.
Excursions in Lanzarote
Exploring Lanzarote through excursions or routes will leave you an unforgettable memory, as is the perfect way to have a vacation in a place that will make you feel like you're on a different planet.
Lanzarote is an island made to enjoy it in all senses its aromas, its photography, its climate, its volcanic landscapes, its paradisiacal beaches and the art that César Manrique left in many corners, true touristic spots.
Discover 10 excursions in the island that will allow you to know magical corners that of this peculiar and beautiful paradise.
San José Castle
Located in Arrecife, the island's capital, this centre of art which is accessed by a drawbridge, is a museum, a restaurant and undoubtedly a uniquely representative place, as it was transformed from military fortress to International Museum of Contemporary Art thanks to the artistry of César Manrique.
Mirador del Río Viewpoint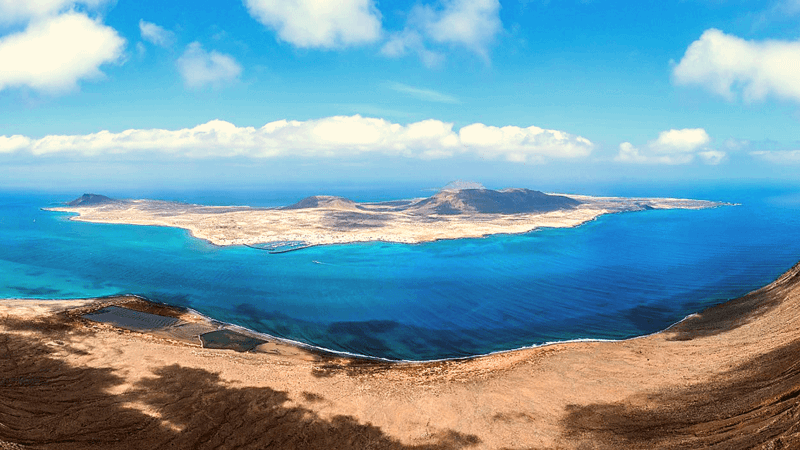 A viewpoint located in northern Lanzarote at the top of an imposing cliff and designed by the famous César Manrique, who integrated it perfectly in its volcanic surroundings. Standing at the wide railing the Chinijo archipelago can be seen (especially the islet of La Graciosa), separated from Lanzarote by the El Río strait. If you are passionate about photography we recommend you get your team ready and come to this place to enjoy one of the best views in Spain.
Timanfaya National Park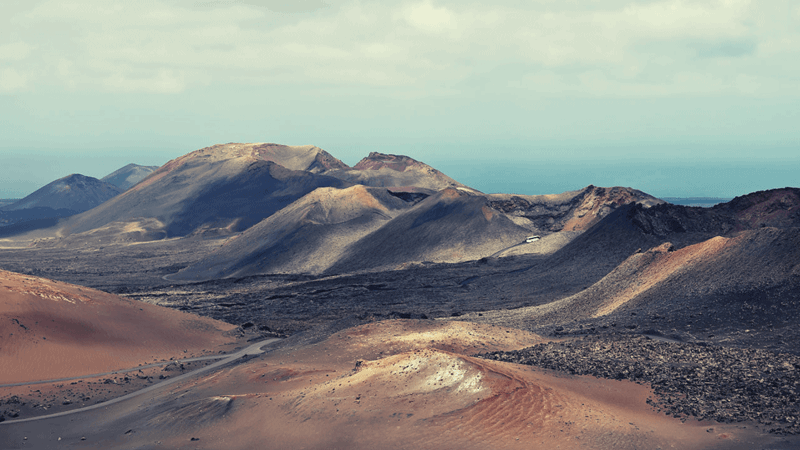 Undoubtedly, one of the best excursions in Lanzarote. Coming to Lanzarote and not visiting the Timanfaya National Park is a sin. Its volcanoes and fields of virgin lava in this national park located on the western coast of the island forms one of the most visual and picturesque spectacles of the Canarian archipelago, one unaltered by the human hand.
Timanfaya is a malpaís, a place that many centuries ago was an authentic lava sea that today is petrified and show us how the force and power of Nature acts on the surface. Neither the climate nor the vegetation has had time to change the pure beauty of this red and black area.
Its ochre and reddish colours will leave in your memory an unforgettable image of the volcanic beauty that gave life not only to the island of Lanzarote, but to each of the Canary Islands.
Papagayo Beach
Among the volcanic essence on the island you can find Papagayo Beach, one of the most beautiful beaches in Lanzarote. A cove of white sand, crystal clear, emerald green water, reduced size and great beauty, Papagayo will win you over. Its shape of a bay or shell with calm water makes it like a swimming pool you'll never want to leave.
Volcanoes Route
One of the best excursions in Lanzarote you can find is the Volcanoes Route. Very close to the Timafaya National Park, you'll discover a volcanic mountain range that shelters a walk of fire and lava. It is common to see heat demonstrations (as in a geyser) through the holes that connect the surface with the active volcanic power that resides miles deep and that keep the island warm.
Camel Trip
Don't miss the chance to discover these landscapes in a different way by taking a walk on friendly and quiet camels. An incredible experience that will make you not forget Lanzarote.
Jameos del Agua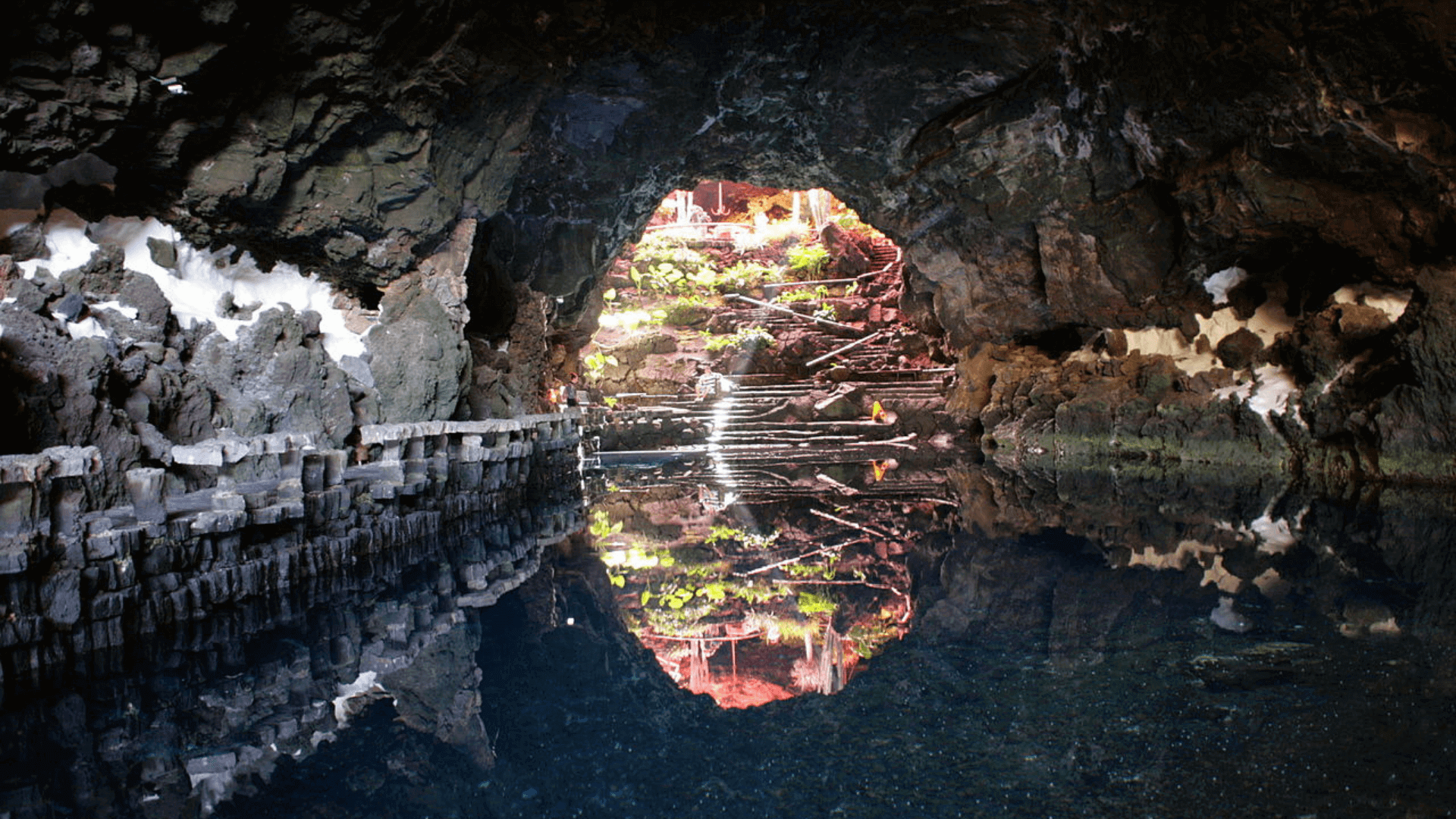 In this volcanic cave in the north of Lanzarote conceived by César Manrique, it is impossible not to be affected by the quiet, almost magical atmosphere. Its natural lake within the cave itself is illuminated by the sun. The café located inside the cave becomes a mandatory stopping point to have a refreshment while enjoying the beauty of this place.
Charco de los Clicos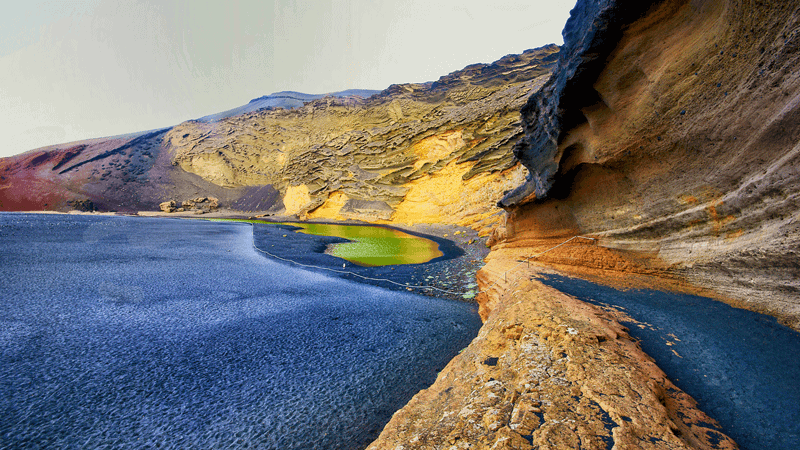 On the west coast of Lanzarote we come across a very contrasting landscape, a crater of an extinct volcano that resemble Mars and submerges into the Atlantic ocean forming a green lagoon that contrasts with the blue sky and sea and the black sand on the beach.
Cueva de los Verdes
Enjoy a walk through the volcanic tunnels that Lanzarote hides, a true hot spot for caving enthusiasts. Minerals, precious stones and unlikely formations come together in this underground place.
Santa Bárbara Castle
A 16th century fortress that watches over the inhabitants of Teguise from the top of Guanapay Mountain. Its interior contains a part of the history of the Canarians who emigrated to America at the beginning of the 20th century.
Come to this island and start experiencing the 10 best excursions in Lanzarote enjoy each of the best corners of this impressive and moving island to the fullest.