What to see in Lanzarote in 3 days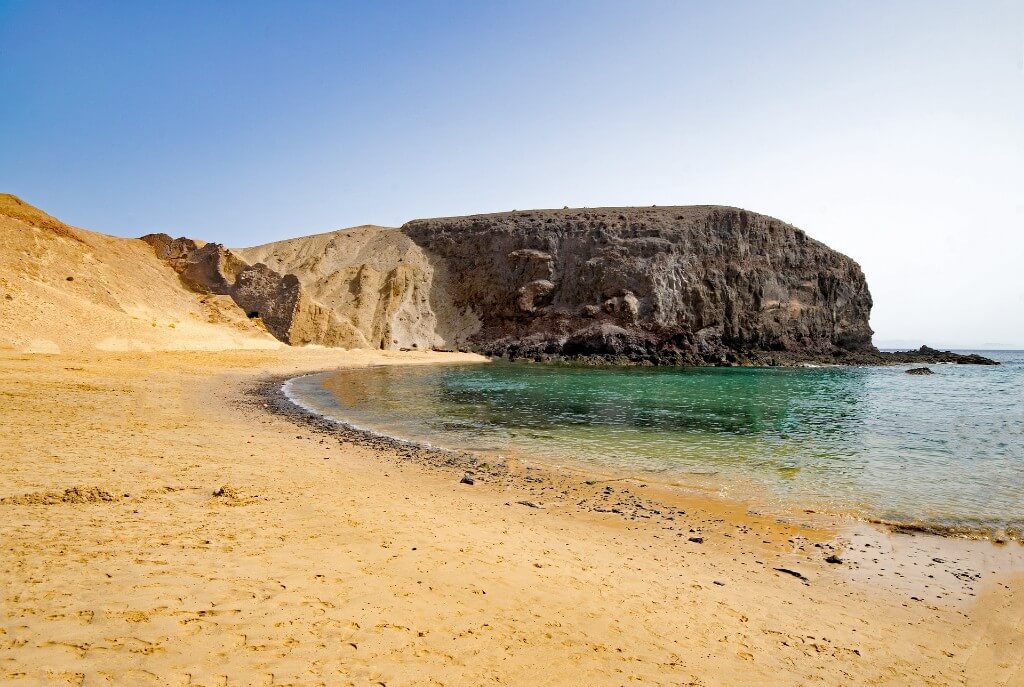 ---
If you are thinking of spending an impressive holiday in one of the most special islands of the Canary archipelago, you will be pleased to know that in this article we are going to give you some recommendations of places to visit in Lanzarote in 3 days to make the most of your getaway.
This is an island where you can make an "express" trip of less than a week and have enough time to take a good impression of its main points of tourist interest to remember them forever. We encourage you to visit it in small weekend getaways or on long weekends coinciding with holidays that extend your stay and allow you to enjoy even more of the tranquility that provides each of the spots of Lanzarote. An island that has conquered the hearts of those who visit it.
Lanzarote, like its other 7 sisters, has a volcanic origin. Its habitat and the echo of that "lava past" is still felt in places like the Timanfaya National Park, the Volcanoes Park, or the Charco de Los Clico; just 3 examples of what you can enjoy on this island that is perceived as a mixture of fire and sea.
What is the weather like on Lanzarote?
The eastern islands of the Canary archipelago, Gran Canaria, Fuerteventura, La Graciosa, the Chinijo archipelago, and Lanzarote, are characterized by enjoying more than 300 days a year of sunshine, with average temperatures ranging between 22 and 24 degrees.
This makes the odds of finding a few summer days on this island to be very high, and thus, becoming a very interesting option to travel a few days as it makes it possible carry out all the plans that are organized, accompanied by good weather, which will allow us to squeeze the maximum a getaway of this type to Lanzarote.
Is it worth traveling to Lanzarote for 3 days?
One of the great peculiarities of this island is the ease with which you can reach its most famous points so all you will need to enjoy this impressive island will be:
A rented vehicle with all the features and comforts so that you can drive to each of the most iconic points of Lanzarote without a limit of kilometers and without depending on public transport and its schedule limitations. The only indispensable thing is to enjoy the autonomy and the flexibility our rented car will provide you as well as allowing you to enjoy and live all the sensations that await you in the most secret spots of this spectacular volcanic island.
A good guide to beautiful, emblematic, and easily accessible places on the island. Although as a general rule, the vast majority of these points have easy access, we must highlight some locations that knowing them will fill your getaway to Lanzarote with extraordinary nuances.
And finally, to enjoy 3 days in Lanzarote, it is very important to find suitable accommodation according to your needs that gives us everything you need to make the most of your getaway.
So, answering the question, is it worthwhile to travel to Lanzarote for 3 days? The only answer is yes, of course, it is worth it and much more when you know our 4 recommendations to enjoy an impressive place each of the days you spend on this beautiful island.
Places to visit in Lanzarote in 3 days
The volcanic landscapes, where ochre and reddish tones are mixed, combined with characteristic vegetation that grows thanks to the fertility of land already famous for being the origin of excellent wines and cheeses, among other exquisite products that this volcanic land gives us.
Jameos del Agua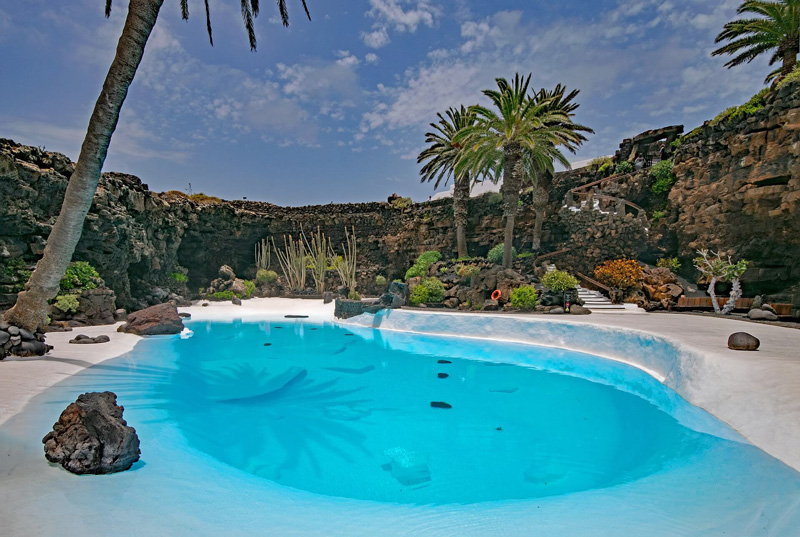 Los Jameos del Agua is the perfect marriage between the volcanic nature of the island and an artist, César Manrique, who dedicated a large part of his life to his absolute love for Lanzarote.
A beautiful monument, where the beauty of some volcanic tubes has been used to create a stage where the cohesion of architecture and design with the natural properties of the place, have forged this majestic spot in the coastal municipality of Haría.
It is there, where the natural entrances of the sea, through the volcanic tubes, keep in them a unique marine species in the world: The blind crab.
Timanfaya National Park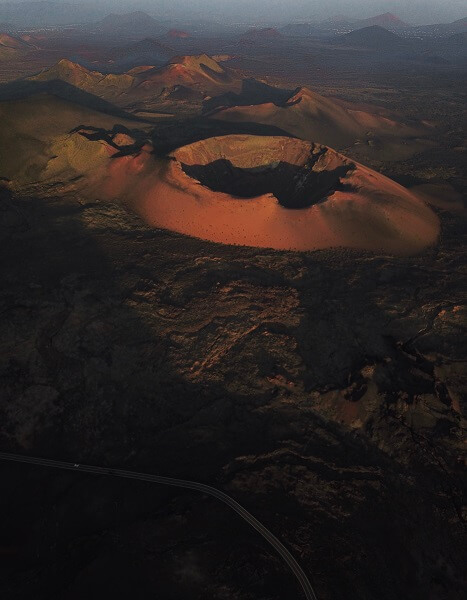 The second most visited park in the Canarian archipelago, second only to the Cañadas del Teide National Park.
In this vast expanse of land, you can notice the already commented essence of Lanzarote; "An island that is of fire and sea".
A mountainous landscape of reddish, grey, and ochre tones makes Timanfaya National Park the place that will fill any trip to this extraordinary island with strong feelings.
Undoubtedly one of the best things to see in Lanzarote in 3 days and it will provide you an unforgettable memory of your escape.
Mirador Del Río (River Viewpoint)

At an altitude of 400 meters, specifically in the Risco de Famara, you will find this viewpoint from where you can see the Graciosa and part of the Chinijo archipelago.
An adapted place, also redesigned by César Manrique, who again takes advantage of the beauty of the surroundings and the proximity of the remains of a 19th-century military battery to create a unique environment that will accompany all visitors while they enjoy one of the most beautiful views of the Canary Islands.
Cueva de Los Verdes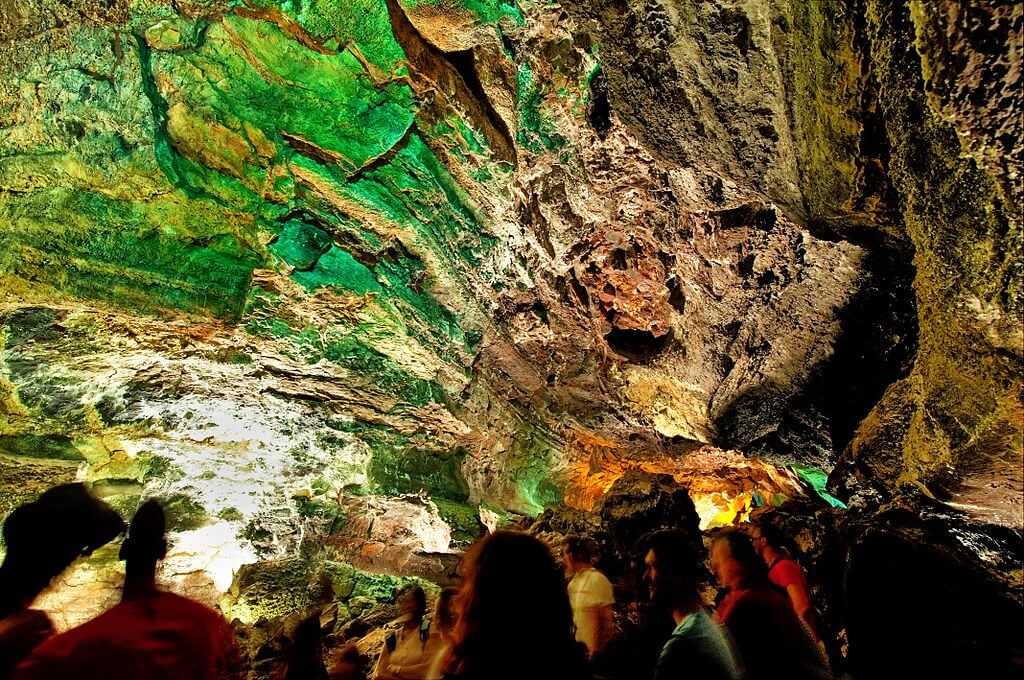 An impressive natural attraction, formed by networks of underground volcanic tubes that can be discovered with activities and excursions.
These caves cross a part of the coast of Lanzarote, where the volcanic origin has given rise to an immense environmental and biological wealth that surprises everyone who enters them.
These are our 4 recommendations of places to see in Lanzarote in 3 days and make the most of an island in a beautiful getaway. What are you waiting for to travel to Lanzarote?