Tenerife, a whale watching paradise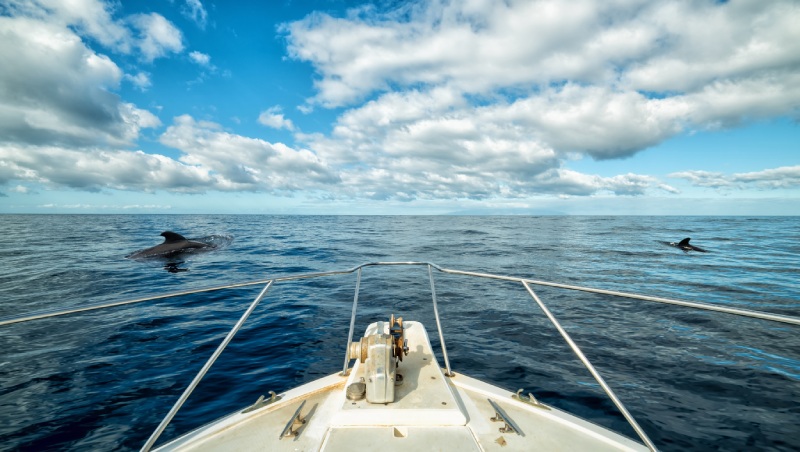 ---
With one of the largest colonies of cetaceans in the world, Tenerife has become one of the most important places for whale watching.
In this post we tell you all about how to organise an excursion to see whales and dolphins in Tenerife, where they can be found and which is the best time of year to enjoy a unique experience on this dream island.
What cetaceans can be seen in Tenerife?
The southern part of Tenerife boasts several species of marine animals in its waters that are worth seeing.
Pilot Whales
In Tenerife we can see a specific type of whale: the pilot whale, also known as the short-finned pilot whale.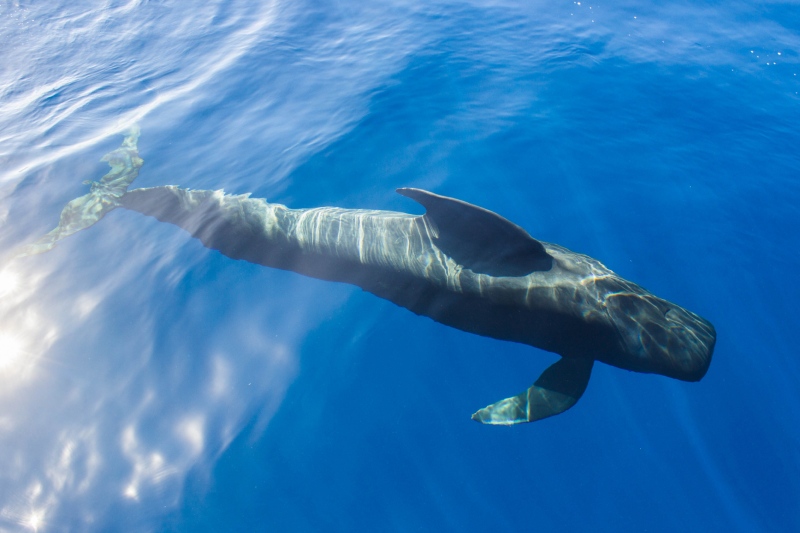 They are part of the Delphinidae family and are a type of odontocete1 cetacean ("toothed whale"). They can weigh between 1,000 and 3,000 kg, with the males being the largest specimens you can see. The average length of a male whale is 5.5 metres, while an adult female can reach up to 3.7 metres on average.
Their fins are shorter than those of the long-finned pilot whales, and have a dark grey or black skin. Their head is round and they usually have a lighter coloured spot on their back.
They are found in the south of the island of Tenerife, and make up one of the largest communities of this species in the world. So much so that Tenerife has become the first Whale Heritage site in Europe, and an obligatory place of pilgrimage for whale watching enthusiasts. Therefore, going on a whale watching excursion in Tenerife should not be missing from your "To-do list" before you leave.
Bottlenose Dolphins
We can also see dolphins in Tenerife, as they live in the same areas as whales and they are relatively easy to spot if you know how and when to do it.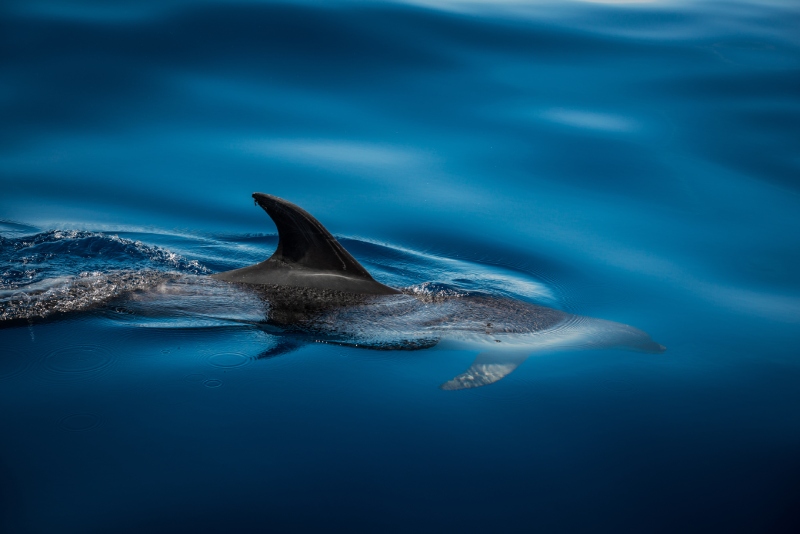 The type of dolphin that we can see on the island of Tenerife is the bottlenose dolphin. It is the most common type of dolphin and also belongs to the odontocete family.
They are very friendly, they live in groups of 10 to 12 dolphins and hunt as a community, helping each other to locate and corner their prey.
They are considered by scientists to be one of the most intelligent animals on the planet, along with apes, pigs and elephants.
Loggerhead Turtles
If you want to see turtles in Tenerife, you are in luck, as there are many in different areas of the island and are relatively easy to spot.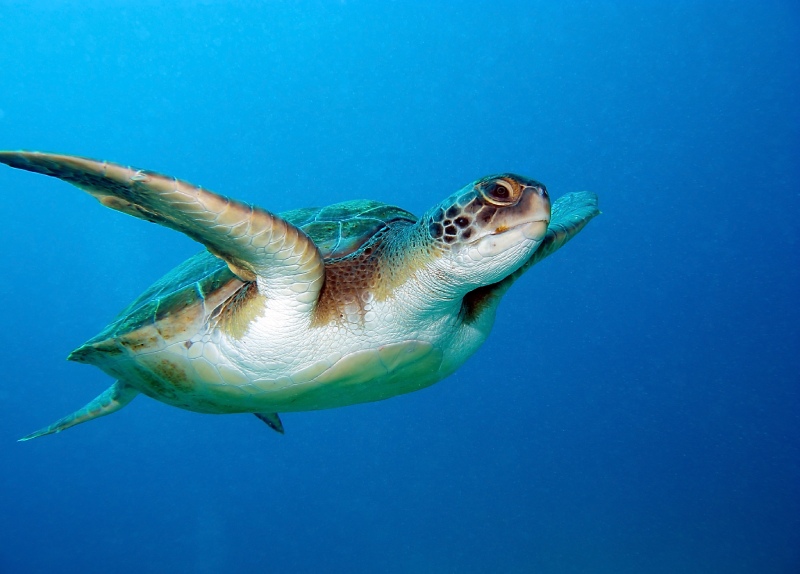 The loggerhead turtle (Caretta caretta) is a species of turtle that arrives every year from the coasts of North America, Cuba and Mexico, and are quite easy to see during the summer months on the coast of Tenerife. They weigh 135 kilos on average and can live up to 67 years of age.
Unfortunately, this turtle is in danger of extinction, which is why the Government of the Canary Islands has a protection and conservation programme in place to ensure that this species does not disappear and to contribute to its wellbeing.
To see them in their natural habitat you have several options such as snorkelling with turtles in Tenerife, organising a diving excursion or watching them from a boat when they come to the surface to breathe, as long as all of these are done carefully and without disturbing them.
Where can you see cetaceans in Tenerife?
If you are wondering where to see whales and cetaceans in Tenerife, you should know that the larger colonies of these marine animals are mainly located in the area that separates the island of La Gomera from the island of Tenerife. This area is located off the south coast of Tenerife. To get there, you can travel by public transport or in your own vehicle. If your plan is to see sea turtles, dolphins and whales on the same day, we recommend you rent a car with TopCar and drive around at your own pace, as the places where these animals can be seen along the coast of Tenerife are all different.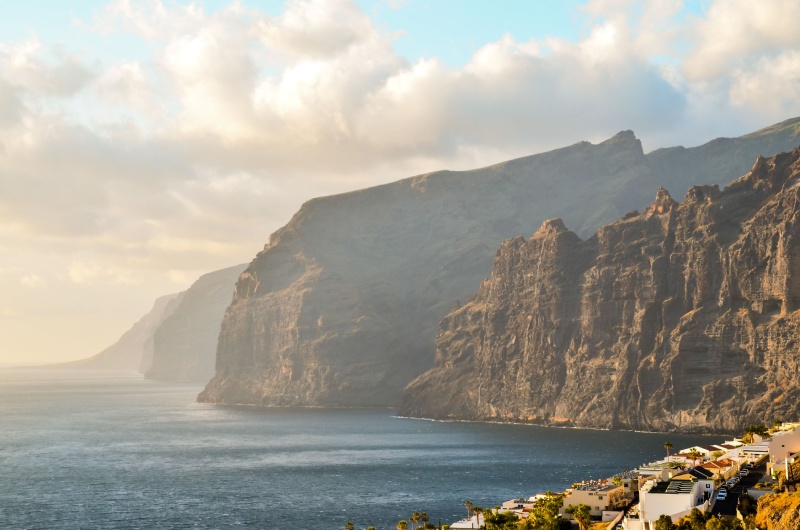 Nonetheless, there are two other areas fit for whale watching, those are Costa Adeje and Los Cristianos.
On the one hand, starting from Puerto Colón, there are several routes for whale watching in Adeje. Puertito de Adeje is also a very good place to see turtles in the south of Tenerife. Another great pilgrimage area for lovers of cetaceans and other marine species is Los Cristianos. The excursions that leave from Los Cristianos usually sail the same waters as in the previously mentioned places.
Apart from pinpointing the ideal place, you should also bear in mind the best time of year to see whales in Tenerife. According to experts, the two best seasons are spring and winter, as this is when there is the most whale activity in the area.
Your whale watching excursion in the Atlantic Ocean
As far as whale and dolphin watching excursions in Tenerife are concerned, we can assure you that there is a wide range of companies offering this type of activity.
It is important to know that whatever your choice is, you should always opt for those companies that have the "Blue Ship" flag on their boats, as this indicates that they have a permit and licence to carry out this type of excursion.
Whale watching, despite being one of the most attractive and popular activities in Tenerife, is also quite delicate as the marine communities that inhabit the area are highly protected.
It is important to follow the instructions and regulations in force, so that the life of these animals are preserved and can be enjoyed for many years to come.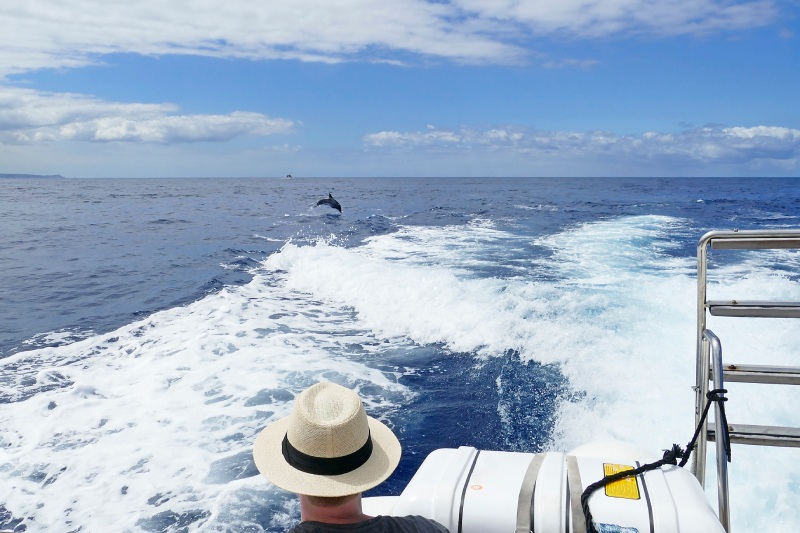 The different types of excursions that are usually offered
Mini Trip: this is a short trip (about 2 or 3 hours from Costa de Adeje) that will allow us to see whales and dolphins along the coast of Costa de Adeje, as well as a visit to Puertito de Adeje to see turtles.
Cruise: if we prefer a longer adventure, we have the option of hiring a 4-hour cruise from Los Gigantes to Masca. The cliffs of Los Gigantes, besides being one of the most impressive natural enclaves of the island, are also an excellent area for whale and cetacean watching.
Atlantic Journey: the most intrepid and curious travellers will have a great time on a 5-hour Atlantic Journey past some of the prominent places of the south of the island. In addition to whale watching in Los Cristianos, they can also visit the Teno-Rasca Sanctuary, Playa de las Américas, Los Cristianos beach, Los Gigantes and Masca Bay.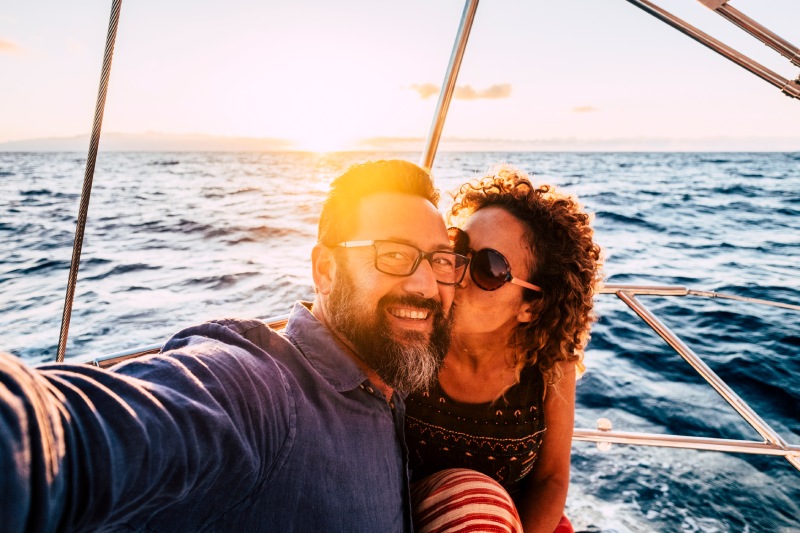 Protection of cetaceans in Tenerife
As we mentioned before, there are strict regulations regarding these activities related to marine animals in Tenerife. Therefore, we advise you to choose those boats that have a yellow flag with the "Barco Azul" ("Blue Boat") logo. This indicates that it complies with the current regulations and respects the following requirements:
Speed Limit
In order to respect the life and tranquillity of marine animals, boats riding the waters where these species live have to move within a limited speed.
Boats must approach the species steadily and very smoothly. They should limit their speed to 4 knots2 and never approach the animals in a straight line to their moving direction, neither from the front nor from behind. It must be done at an angle of at least 30 degrees. By following these instructions, we avoid scaring the species, and avoid collisions with them, thus respecting their habitat.
Distance
The regulations also require a minimum distance to be kept with these animals. In this case we would be talking about a 60 meters distance.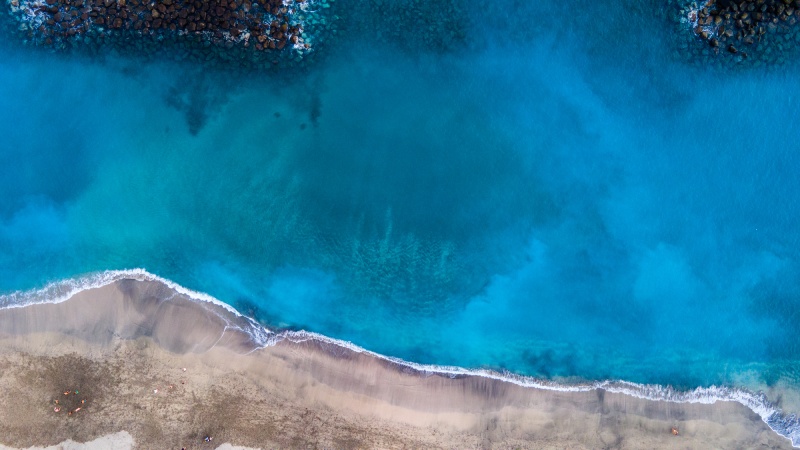 Time limit
The maximum time allowed near these species to observe them is also limited to 30 minutes, in order to disturb as little as possible the marine communities in the area.
Avoiding a wide concentration of boats
The concentration of several boats in these areas is also not allowed.
Prohibitions
On the other hand, there are some prohibitions that visitors must respect.
Swimming with the animals
You are not allowed to swim near the animals, in order to have as little impact as possible on their daily life.
The less impact humans have on their lives, the better. This includes throwing food into the water from boats, as it must be the animals themselves who develop the necessary skills to get their own food.
Throwing waste or garbage into the water
This does not only apply to this type of excursions in particular, but must be necessary in any natural environment for its proper preservation.
You will have already realised that Tenerife is a paradise for animal enthusiasts who want to see different types of marine species. The wide variety of activities that you can hire range from cruises along the south coast, to diving excursions in the areas where most of the whale, dolphin and turtle communities are concentrated on the island.
Whatever your choice, it will be worth it.
---
1Odontocetes (Odontoceti) belong to the family of cetacean mammals with jaws equipped with teeth and nostrils fused into one. Examples are dolphins and sperm whales. Both are found in the waters of the Canary Islands.
24 knots equals 7,408 kilometres per hour.